Summer Skincare: The Perfect Skincare Routine This Summer
The summer months are always welcome. Sunshine, beaches and long blissful summer days can be the best times of the year.
But this time of the year can also take a toll on your skin. This doesn't mean we have to avoid the sun, but it's important to adjust your skincare routine to the seasonal change.
Weather can have a big influence on our complexion, so let's learn how to protect it while we're enjoying the sun!
How does the warmer weather impact our skin?
Combined with humidity and heat, the increase in temperatures causes the sebaceous glands in our skin to work overtime. This means oily skin might become oilier and dry skin may become rough and patchy.
Additionally, with more contact to water, like beaches or pools, our skin may also become dehydrated.
In summer, you might want to opt for skincare products with a lighter consistency, like gel cream moisturisers. Using these types of products will keep your skin feeling hydrated without being too heavy on your skin. If you have oily skin, they may also help in minimising shine.
| Products to Use | Products to Avoid |
| --- | --- |
| SPF: The most important skin concern during the summertime is ageing and sun damage. Wearing SPF daily will help to combat both of these. Ultimately, using sunscreen will help keep your skin healthy, which will ensure your skincare regimen is effective. | Ditch the heavy exfoliants: In the hotter months, your skin is more sensitive to sun damage, so it's okay to limit the use of chemical exfoliants, like products with AHA/BHA. Additionally, you can also limit the use of physical scrubs as in summer, your skin will be more sensitive due to exposure to chlorinated swimming pools and beach saltwater. |
| Try a water-based moisturiser: In summer, it's important to bring hydration back to the skin if it's feeling a little dehydrated. A more lightweight formula in a moisturiser will work best here, to help your skin feel hydrated without it being sticky or heavy. | Swap creamy cleansers for gel: Creamy cleansers are best for hydrating the skin in winter. As your skin will be producing excess sweat and oil in the heat, this is the perfect time to use a more lightweight cleansing formula that will help to eliminate excess oil. |
The Perfect Skincare Routine for Summer
Warmer weather means feeling hot and sticky, so it's recommended to tweak your skin routine to ensure your skin is feeling cool, yet still hydrated.
1. Cleanser
As summer often brings increased sweat and impurities, a thorough cleansing routine is essential. Opt for a gentle yet effective cleanser that can remove dirt, excess oil, and sunscreen residue without over-drying your skin. Look for products with natural ingredients, like chamomile and aloe vera, to soothe and calm any redness. The aim is to have a clean canvas for the rest of your skincare products to work their magic.
Start your summer routine by properly cleansing the skin of impurities.
You can start by using a balm or oil cleanser like Activating Cleansing Oil first, to remove any makeup or SPF. Then go in with a gentle cleanser, like Bead Cleanser.
Shop Cleansers for Summer
2. Exfoliation
Exfoliation should be a crucial part of your summer skincare routine. Sweating can lead to a buildup of dead skin cells, which can clog pores and lead to breakouts. Choose a mild exfoliant with natural fruit enzymes or alpha hydroxy acids (AHAs) to gently slough away dead skin cells. This will promote skin renewal, leaving your complexion brighter and smoother.
3. Hydrating Mist
Spritz a toning mist onto the skin for hydration and to damp the skin before pressing in your serum.
Try Jojoba Water Toning Mist which is clinically proven to lead to a 25% increase in hydration and decreases the appearance of large pores by 44%.
Shop Jojoba Water Toning Mist
Targeted Treatments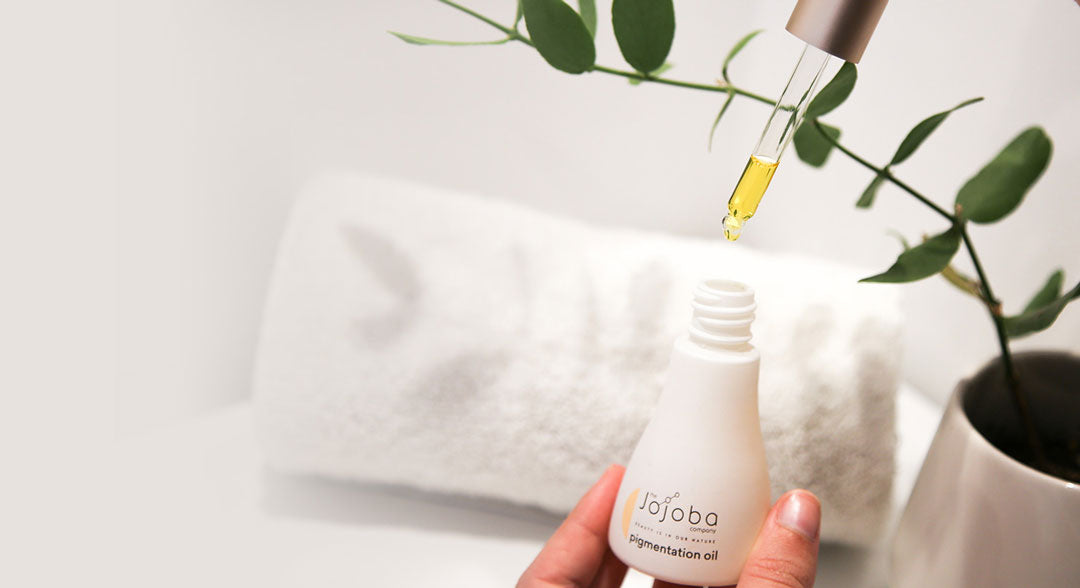 To address specific skin concerns, consider incorporating targeted treatments into your summer routine. For example, if you're dealing with hyperpigmentation or dark spots from sun exposure, look for products containing vitamin C or niacinamide. These ingredients can help brighten your complexion and even out skin tone.
Shop Pigmentation Oil
4. Facial Oil
To nourish and replenish skin after being in the sun or getting sunburnt, try using Australian Jojoba mixed in with aloe vera gel.
It's packed full of vitamins A, D & E and omegas 6 & 9. It will also provide up to 8 hours of moisturisation, keeping skin soft and smooth.
Shop Facial Oil
5. Moisturiser
One of the most important steps in any summer skincare routine is hydration. The combination of heat and sun exposure can deplete your skin's moisture, leading to dryness and premature aging. Invest in a high-quality hydrating serum or facial oil that contains ingredients like hyaluronic acid or jojoba oil. These powerhouses can hold moisture in your skin and create a protective barrier against environmental stressors.
To lock in all the moisture from your routine, you'll want to apply a moisturiser. Once the weather heats up, you might want to opt for a gel cream, which has a lighter consistency.
Jojoba Water Gel Cream is a hydrating, water-based moisturiser which is incredibly lightweight, making it perfect for those warmer days.
Shop Moisturizer for Summer
---